A few seasons ago I was fishing a favoured Winter river flood swim for Pike, nice and slack and a good ten foot right under the tip.
I was using the standard set up comprising of two 2.75lb deadbait rods, both fished tight in to the bank with the baits a few yards apart and both with slider floats just for the ease of being able to transport the rods easily after being rigged at home.
Unbeknown to me at the time the right hand rod had a cracked ring liner and this first presented itself when the float that it was attached to gently bobbed and began to dance off in the direction of the other float a few yards away and again tight to the bank.
This is when the fun started!
I went to strike into the run and almost without any resistance the line parted!
Oh dear, now I'm detached from a Pike which has taken a bait with trebles attached to it and there's only one very bad outcome but I couldn't dwell on it because almost immediately after breaking off the float on the other rod sailed away and this time I struck into what felt like a decent fish.
I'm not sure whether my head was still distracted by the fate of the other fish a few moments ago but I somehow managed to allow the fish to snag me up in some submerged brambles right below me
mg:
If things weren't already bad enough I had little other option than to put the rod down and try and follow the line by hand as far as could with my hands and hope for the best in freeing it.
One leg in and kneeling on the other the cold Winter floodwater filled my boot in seconds and I was wary of going too far such was the steepness of the bank but I managed to pull the line free and scramble back out the water where I then brutally hand lined the fish into the landing net... Thank God for thick winter mitts!
I immediately matted the fish and went to open the mouth to unhook it when I noticed my other trace coming out of the mouth, the same fish had picked up both baits!
I could barely dare to look as I opened the jaws out to see where the initial bait was, if it was there at all, but staring in disbelief I could see that it was just the right side of the throat and both baits, and sets of hooks, were removed with ease and the fish went back none the wiser but not before a picture.
And here she is, I nickname this fish...
Lucky!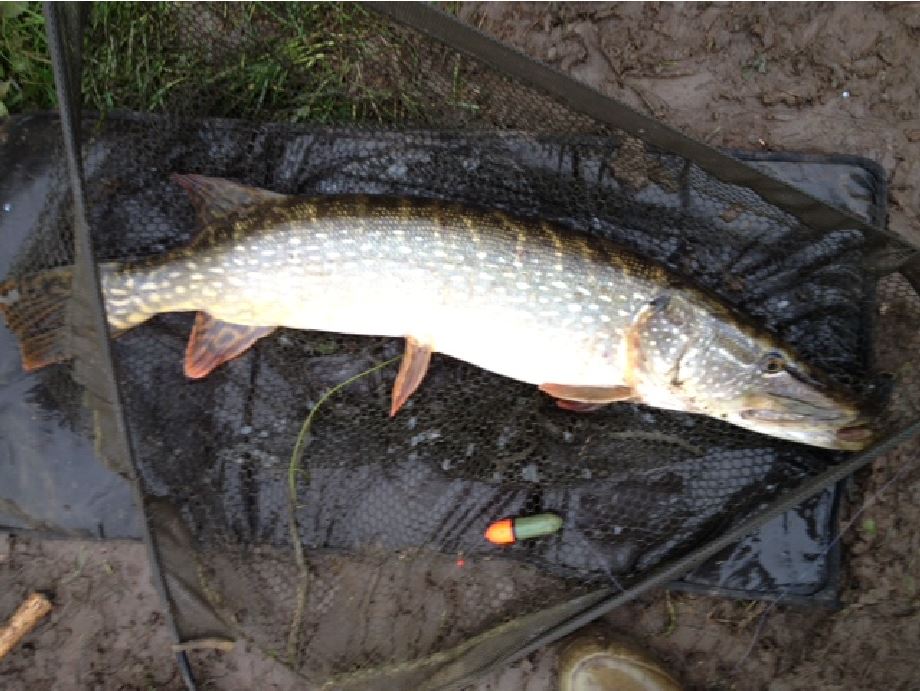 What a complete dog's dinner!!!
mg:
What's your worst, or best depending on your view, angling calamity?