Joined

Sep 21, 2004
Messages

221
Reaction score

0
First of all i really wanted to like these boots as they are the most comfortable boots to wear, they are very lightweight, 100% waterproof and of general good quality. I had high hopes for these, however there is one very big flaw, & that is excessive condensation inside the boot when temperatures drop.
I have tried wearing sock liners on there own, 1season coolmax socks, 3 season coolmax socks, and 4 season merino wool socks, with every combination in between & frankly the boots are hopeless in dealing with any moisture & seems to create further moisture in condensation when outside temps are cold.
I was beginning to suspect that i had some kind of mutant sweaty foot issue , because the toe area of the boot & my socks (especially the wool) were at times saturated after just a few hours (nothing energetic, just sitting around swim etc).
It concerned me enough that i would dig out all my old footwear & do direct comparison ... i wore eVENT hiking boots, Skee-Tex Field Boots & Baffin Trapper and all of them kept my feet drier & warmer in cold temperatures by a distance.
During a 48hour session the temp dropped to just above freezing & i decided to use my Muckboots as a bivvy slipper, to jump in if i got a take or needed to get out of bivvy at night. No fish unfortunately, but got out for "call of nature" & within less than 5minutes of standing there watching the lake, i felt the toe area become very wet & very cold, very quickly .... i can only assume this is because my warm feet from sleeping bag, hitting the cold boot is creating the condensation. Whatever the reasoning it was unpleasant
There is no fleece lining inside the boots, just a "springy" orange lining. This stuff seems to act like a sponge that holds any moisture & being the boot is rubber outer, with little gap in between, there is nowhere for this moisture to go (i dont care what the specification says about "airmesh breathable lining" …. for me, it doesn't work !!).
A huge dissapointment, and i can only assume that the Muckboot Spey's etc must perform very differently, as they get such good reviews, but for me, Muckboots are not the kiddies.
To be fair they will keep your feet comfortable over a day session, but then most half decent boots will do that. The challenge is when fishing for 48hrs in winter, more time is spent static and they cant be dried out.
Resigned my Muckboots to dog walking now, and they even struggle with that as they have no grip on paving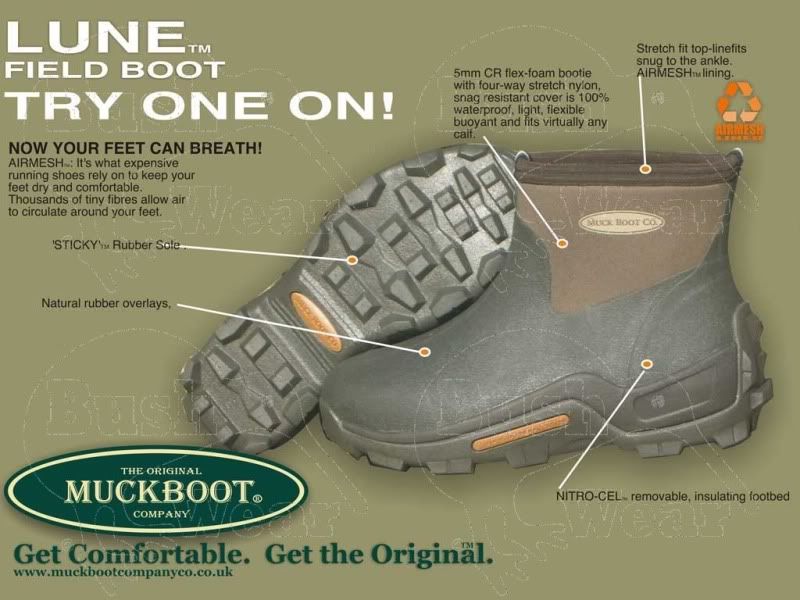 Last edited: